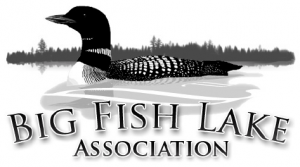 Welcome to the Big Fish Lake Association website.
Whether boating, fishing, swimming, or just taking in the view – residents of Big Fish Lake have always enjoyed the benefits of its good quality water.  It is one of the clearest lakes in the north-central Minnesota ecosystem.
Since its founding in 1959, the Big Fish Lake Association has worked to steadily improve the environmental state of the lake.  We have addressed water quality, shoreline restoration, fish habitats, and the new threat of Aquatic Invasive Species (AIS).
We are located Northeast of Cold Spring, Minnesota.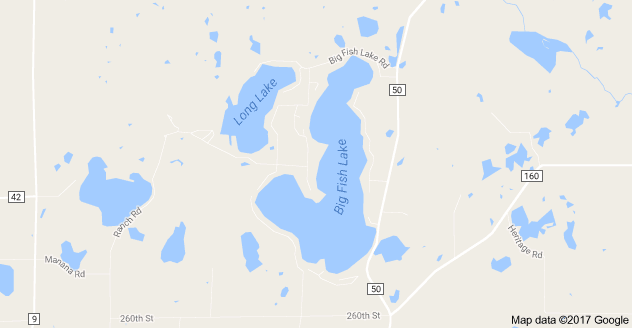 On June 5, 2019, Jack Eickhoff was blessed to see a once in a lifetime event: A family of four loons consisting of two adults and two babies crossing County Road 50 from neighboring Hermit Lake to get to Big Fish Lake. As you will see, it is very difficult for the loons to walk on land because their legs are too far back on their body. Their center "keel" on their body makes it difficult to even crawl on land without leaning over to one side. It is also quite an undertaking for them to take off from water because they depend on help from the wind to get under their wings and a long "runway" to do so. A huge thanks to Jack Eickhoff for sharing this video. Enjoy!
Loons-crossing-Hwy-50-6.5.19-1
Loons-crossing-Hwy-50-6.5.19-2